Enjoy Luxury with the Volvo XC40 Near Lafayette
In search of a luxury SUV in the Lafayette area? The beautiful design of the Volvo XC40 could be the perfect vehicle to suit your needs. There are many SUVs out there, a but choosing Volvo is the decision to have a car built by a company who puts people first. With the impressive capabilities possible through the latest models of the Volvo XC40, you'll be able to see why.
What Makes Volvo Different
Volvo prides themselves on designing cars that give the drivers something to rely on and look forward to getting inside each day. Initiatives that have caring attitudes towards the drivers and passengers are key components of the Volvo mission. Using a mixture of values that look towards the future, Volvo has plans to use technology, performance, and safety to make a positive impact on the driving world, and therefore, the drivers.
Performance
Lafayette drivers will enjoy the option of two different engine types depending on what Volvo XC40 trim level they choose. A 187-horsepower, a Direct-Injected Turbocharged engine is an option equipped with low friction technology that maximizes power and efficiency. This is perfect for everyday driving and includes an Eco function that helps minimize fuel consumption and CO2-emissions.
The other engine brings your power to the next level and comes standard on half of the trims. Those drivers looking for ultra-responsive all-wheel-drive will enjoy the T5 AWD engine, equipped with 248-horsepower, low weight and great handling on more complicated roads. This engine also features the Eco function. Start/Stop technology comes standard on all models.
Safety & Technology
By choosing the Volvo XC40, you can expect to get a vehicle equipped with the latest technology to keep you entertained and safe. Enjoy a standard 9-inch center monitor with touch-screen that gives you easy access to navigation. An even larger, 12.3-inch digital display is also a standard feature in the Volvo XC40, and this one is just for the driver. It can also provide navigation information, as well other relevant driver information and it smartly adjusts to the light outside to provide the most comfortable viewing experience for you.
Volvo knows you love your smart devices and wants to make charging them on the road a non-issue. Thanks to a variety of conveniently-placed USB ports, a wireless charger, and a powerful outlet in the spacious cargo area, you and your passengers can count on staying fully charged.
Interior Features
Relevant, functional and intelligent safety features are of top priority for Volvo, and you'll experience them in the Volvo XC40. Experience standard features like automatic braking in the case of a collision, City Safety Collision Avoidance Technology will brake if objects unexpectedly obstruct your vehicle, and Driver Alert Control features a camera that takes note of your typical driving style and will alert you of erratic behavior, so you know when to take a break.
Style
The Volvo XC40, like all Volvo choices, refuses to compromise in flawless design. Created with the driver and passengers at the forefront, expect an ergonomic and thought-out interior. Enjoy a host of standard features such as the Clean Zone Air Quality System, which filters out bad odors from outside and keeps air with poor quality from coming inside.
Other notable interior design features include standard, handy steering wheel controls, a hand-stitched leather steering wheel and a power-adjustable driver's seat with remote memory that will save your perfect seating and mirror placement for you. This luxury SUV is here for your ultimate comfort.
Come by Giles Volvo Cars for a Test Drive in this Luxury SUV in Lafayette
The information listed here just scratches the surface of all the capabilities of the Volvo XC40. Browse our inventory to learn more about this incredible vehicle. Lafayette drivers should also schedule a test drive to experience these features in person. We're sure you'll fall in love, and then, you can speak to our Volvo finance team about your purchasing and leasing options. We can't wait for you to experience this beautiful luxury SUV.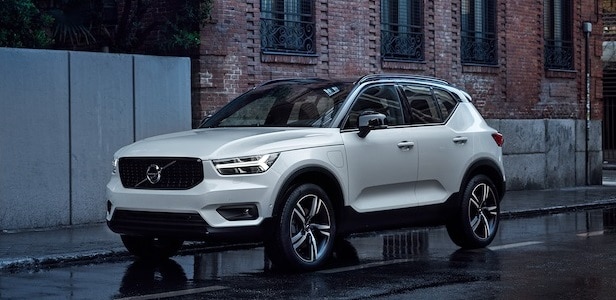 Hours
Monday

8:30AM-7:00PM

Tuesday

8:30AM-7:00PM

Wednesday

8:30AM-7:00PM

Thursday

8:30AM-7:00PM

Friday

8:30 AM - 06:00 PM

Saturday

8:30 AM - 06:00 PM

Sunday

Closed