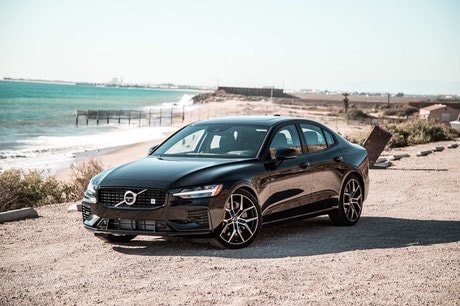 The Volvo S60 is a small luxury sedan that has a lot to offer. The technology in the new 2020 Volvo S60 is almost futuristic. It has displays where you want them, driving assistance when you need it, and the latest in safety technology. These features make the 2020 model of the Volvo S60 feel like the most high-tech small luxury sedan on the market.
Displays where you want them
The 2020 Volvo S60 comes with the screens you want where you want them. The 9-inch Sensus touch screen helps you stay connected and in control. It is intuitively designed with easy-to-use controls, clear graphics, and a portrait format that makes reading maps, viewing menus, and following navigation simple. You can also use the Sensus touchscreen to connect your favorite apps so you have your music, podcasts, and navigation available through touch or voice control. Another display that you will find on the 2020 Volvo S60 is the graphical head-up display. This display projects graphics and texts on the lower part of the windshield. It provides you with important warnings and vital information without requiring you to take your eyes off the road. You can get information such as speed limits, navigation directions, cruise control functions, incoming calls, and road signs. The graphical heads-up technology allows you to get all the information you need while keeping your eyes on the road.
Driving assistance when you need it
The 2020 Volvo S60 comes with a selection of driver assist technologies to help keep you and others safe on the road. Pilot assist is a technology designed to reduce the stress that comes from being in stop-and-go traffic. Pilot assist can help with steering, acceleration, and braking when you find yourself stuck in slow traffic. You can use this technology to help you at speeds up to 80 mph. The 360? SurroundView Camera is another driver assistance technology available on the Volvo S60. It allows you to see objects or other vehicles that are in your blindspot or difficult to fully see. The 360? SurroundView Camera gives you a bird's-eye view of your car and the surrounding area using your touchscreen display. This technology can help you get into tight parking spots and safely navigate difficult areas.
The latest in safety technology
City Safety is a technology designed to help you spot and avoid potential danger while driving. It uses radar and camera technology to identify and warn you about other vehicles, pedestrians, cyclists, and even large animals that are in your path while driving. This technology will warn you about a potential collision and can apply the brakes if you do not react quickly enough to avoid a collision. Two other safety technology options on the 2020 Volvo S60 are run-off road mitigation and Volvo safety cage. Run-off road mitigation detects it if your car is about to run off the road unintentionally and guides it back onto the road. This technology can also reduce the chance of serious injury if the car does, in fact, leave the road. The safety belts automatically tighten when this feature is engaged to help keep driver and passenger protected. The Volvo safety cage is a feature designed to keep everyone in the car as protected as possible during a collision. The passenger area of the Volvo S60 is reinforced with one of the strongest types of steel available on the market to create a protective cage.
The 2020 Volvo S60 is a small luxury sedan that has all of the tech features you need to have a comfortable, connected, and safe drive. Head on over to Giles Volvo Lafayette to experience the technology packed into this small luxury sedan for yourself.